USDQC Friday Night Survival #118 - Doomed in SPACE
---
2021-12-02 • Flambeau • (
Blogs - USQC
)


Date: Friday December 3rd, 2021
Session: 20.00 CST

Details and comments

The year is 2088 and the UAC's current goal is to remove the line that separates men from machines.

You are one of the UAC's victims! Use your increased speed and strength to escape from this doomed place with your 9000WATT QUAD CORE SPACEGUN!

To keep up with The US DOOM & Quake Community join the USDQC Discord
TNS #538 - Down the Drain (Part II)
---
2021-12-02 • Keyboard_Doomer • (
TNS News
)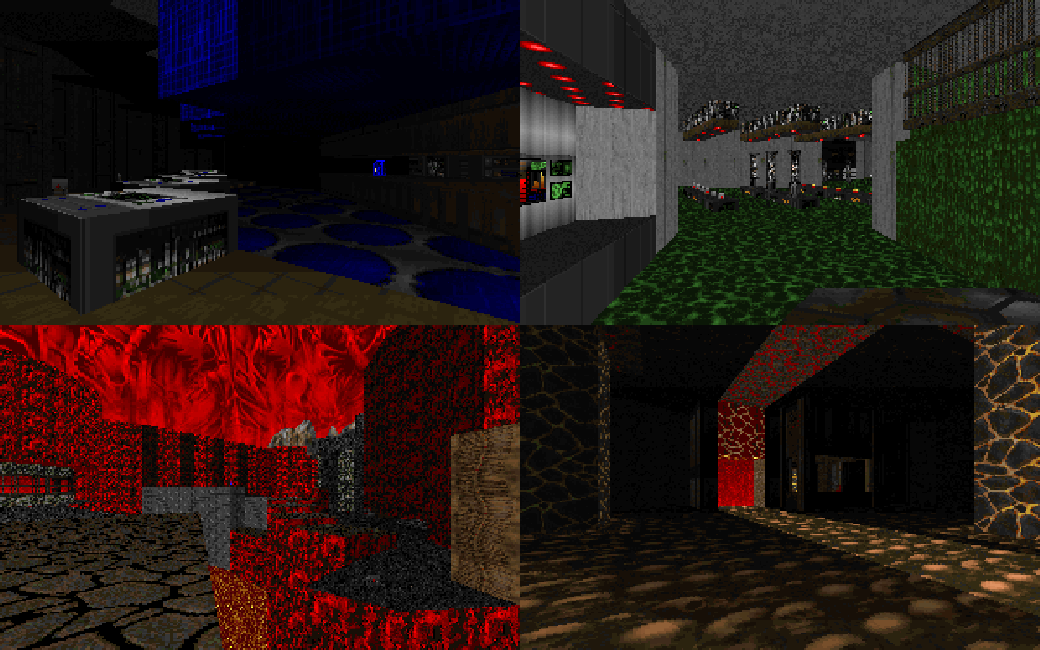 Date: Thursday 2nd December 2021
Euro session: 19:00 GMT

> Details and comments <


Let us continue the path Down the Drain and see where it leads us. There isn't a big spike in either difficulty or monster counts in the second half of the wad so if you enjoyed the last week's sail, there's more to look forward to!
LegacyZ Duel Tournament №1 December 18th 2021
---
2021-12-01 • Flambeau • (
Blogs - Flambeau
)


one-day Duel Tournament being hosted by LegacyZ

Hi everyone!

Wanna play some duels in NS format on quake maps for few euros?

Sign up for the LegacyZ Duel Tournament №1

Date: 18.12.2021 3:00 PM GMT / 18:00 MSK
Prizepool: €125
Brackets type: Double Elimination

Details:
Participants: 16-32
Tourney type: NS
Game settings:
- Mode: Duel
- WAD: LegacyZQ2Dv3.wad
- Maps:
-- map01: AEROWALK
-- map02: PRO-Q3T4
-- map03: BLOODRUN
-- map04: HOUSE OF DECAY
-- map05: BLOOD COVENANT
- DMFLAGS1/2/3: 1090803140/1073741824/0
- Skill: 4 - NM
- Timelimit: 10 min
- Death Limit: 15 secs

All rounds are BO3 (until 2 wins).
Final(WB,LB and Grand finals games) rounds are BO5. WB (Winner bracket) finalist enters without additions points.
Players pick maps one by one. For BO3 round need 3 maps, BO5 - 5. Use "callvote flipcoin" to determinate player who pick first map.

Download the Wad

Discussions and registration on the LegacyZ discord-server

ZDS #744 - Reindeer Hunting (Christmas Special I)
---
2021-12-01 • UberGewei • (
ZDS News
)


HO HO H.. Oh no..

2021 also got hold of Santa Claus, he's in some serious trouble!
Some of his reindeer have escaped and without his reindeer he cannot deliver
presents and millions of children will not get their presents.
Could you help Santa Claus catch his reindeer?

We'll start the hunt coming Saturday!

Additional info:
This is about the same game mode as Dinosaur hunting. But with this mod,
there are more than two Reindeer (based on player count).
A number of features have also been added to make the game a little more exciting.

-> Forum post >
...
Wadazine Flag Fest #11 ZDCTFMP
---
2021-11-27 • Flambeau • (
Blogs - Flambeau
)


Welcome to Wadazine Flag Fest!

This week we will play ZDCTFMP!


Date: Sunday, 28th November 2021

US Session : 6:00PM CST
Location : Dwango United New Jersey

Introducing, a new fantastical multiplayer event promoted by the Wadazine, the Flag Fest event! As the name implies, this event is centered around the all-mighty Capture-the-Flag mode, a classic game mode that's been around since the golden days. An event of pure adrenaline and teamwork, multiplied by 3 thanks to the sheer beauty that Doom is.

In this event, 2 teams will go against each other and see how many wins they can nail by capturing the limit of flags first, or having the highest number of flags captured once the timer runs out. You know it! The usual drill of the classic Red vs Blue, now in Doom fashion.
Our main goal is to bring back some casual fun into the CTF scene, so we implore you to join us, no matter your level of expertise, we are here to have fun, frag some brains out and take the flags of our enemies in glorious multiplayer combat. Let's take the flag together on Sundays!



To keep up with the Wadazine Community join the Wadazine Discord

---
---