Wadazine Flag Fest #18: 32-in-24-12 Part II
---
2022-01-23 • Flambeau • (
Blogs - Flambeau
)


Welcome to Wadazine Flag Fest!

This week we will play 32-in-24-12!




Date: Sunday, January 23rd 2022

US Session : 6:00PM CST
Location : Dwango United New Jersey

Introducing, a new fantastical multiplayer event promoted by the Wadazine, the Flag Fest event! As the name implies, this event is centered around the all-mighty Capture-the-Flag mode, a classic game mode that's been around since the golden days. An event of pure adrenaline and teamwork, multiplied by 3 thanks to the sheer beauty that Doom is.

In this event, 2 teams will go against each other and see how many wins they can nail by capturing the limit of flags first, or having the highest number of flags captured once the timer runs out. You know it! The usual drill of the classic Red vs Blue, now in Doom fashion.
Our main goal is to bring back some casual fun into the CTF scene, so we implore you to join us, no matter your level of expertise, we are here to have fun, frag some brains out and take the flags of our enemies in glorious multiplayer combat. Let's take the flag together on Sundays!

> Details and comments <

To keep up with the Wadazine Community join the Wadazine Discord

USDQC Friday Night Survival #125 - SlayeR
---
2022-01-21 • Flambeau • (
Blogs - USQC
)


Date: Friday January 21st, 2022
Session: 20.00 CST

Details and comments

Friday Night Plutonia-ish Survival time!

Yes! One more Plutonia-ish mapset with delicious difficulty curve for our pleasure!

SlayeR is a wicked cool, challenging with a good architecture 11 levels WAD made by Richard Wiles in 2001!

A lot of monsters are waiting for us this Friday in this fast-paced WAD! \o/

To keep up with The US DOOM & Quake Community join the USDQC Discord
TNS #545 - 1000 Lines 3: Community Project (Part II)
---
2022-01-20 • Keyboard_Doomer • (
TNS News
)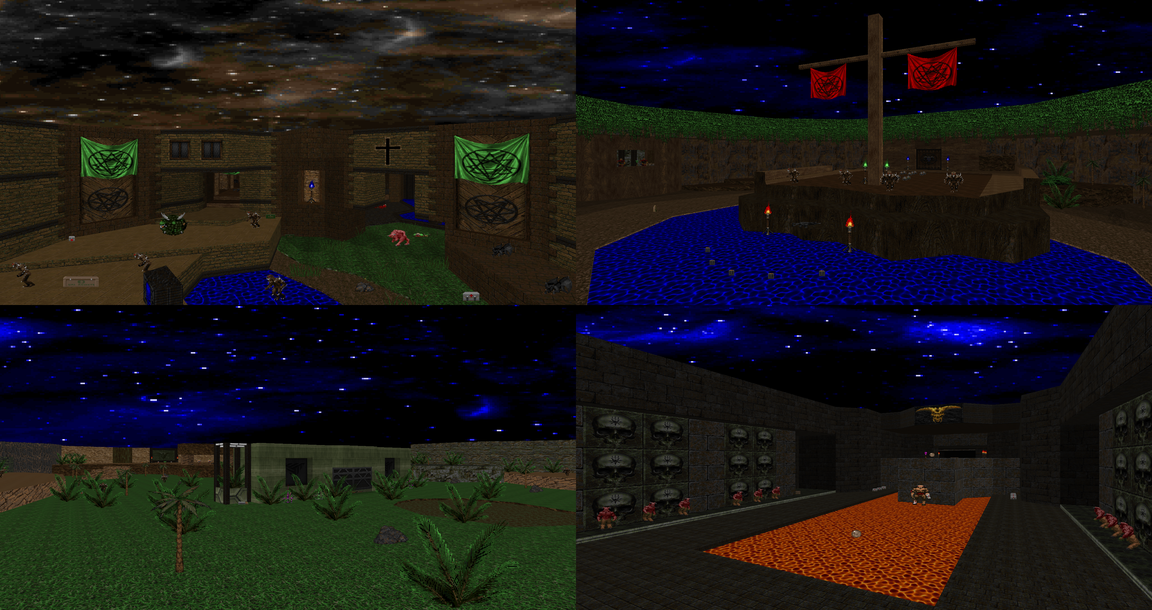 Date: Thursday 20th January 2022
Euro session: 19:00 GMT

> Details and comments <


We have some unfinished business from last year. Some crazy vanilla (de)hackery prevented us from fully enjoying the first part of this wad back in November but since then the ZDaemon devs amended that so we can (hopefully) have a problem-free session this time. Thanks for the great work there and let's finally finish this now-Cacoward-approved megawad!
USDQC Wednesday Night Deathmatch #140 - Mr.Doom 30
---
2022-01-18 • Flambeau • (
Blogs - USQC
)


Date: Wednesday January 19th 2022
Session: 20.00 CST

Details and comments

We kicked the bucket last week and now for this week, we have Mr.Doom 30! This wad is a collection of Mr.Doom's mappacks (in addition to a few other maps), which includes a total of 30 maps where a majority come from 10 Pak, 10 Pak2, and Mini-Pak 2. Most of these maps are small and are described as IYF or "In Your Face" maps, with not a lot of cover and a lot of close action. So get your super shotties ready and join in for a fragfest with WNDM!

Wednesday Night Deathmatch is the flagship weekly event of the United States Doom and Quake Community. Join us on Discord to engage in ridiculous voice chats during the events. Everyone is welcome.

To keep up with The US DOOM & Quake Community join the USDQC Discord
---
2022-01-14 • UberGewei • (
ZDS News
)


Hello Folks!

Let's kick back and relax a little..
Because we have something special to celebrate.
Namely 750 of these sessions!
We'll do so in a modified version of ZDaemon City!

Forum post

Date: Saturday January 15th
Euro: 19:30 GMT (2:30 PM ET)
USA: 01:00 GMT (8:00 PM ET)
---
---