ZDS #720 - 32in24-17: 3 Flags 3 Furious Part I
---
2021-06-19 • Krawa • (
ZDS News
)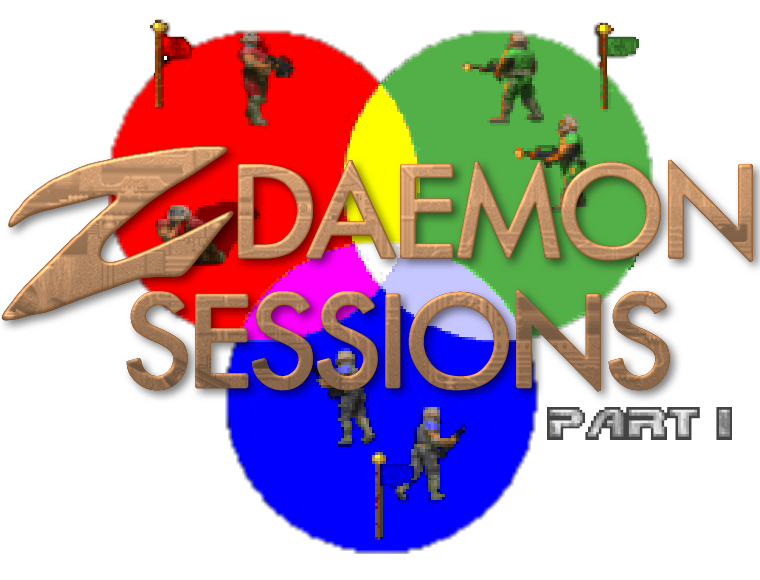 Hello ZDaemon Sessions Capture the Flag People,
This weekend it's time to play the first part of
32in24-17: 3 Flags 3 Furious.


-> Forum post <-

Date: June 19th, 2021
Euro: 19:30 BST (2:30 PM EDT)
USA: 01:00 BST (8:00 PM EDT)
---
2021-06-11 • Krawa • (
ZDS News
)



Hello ZDaemon Sessions Party People,
This weekend it's time to play the first part of Nutty!
No need to tell you what it is and how to play, just join.
And don't forget: you can't win without a skin!


-> Forum post <-

Date: June 12th, 2021
Euro: 19:30 BST (2:30 PM EDT)
USA: 01:00 BST (8:00 PM EDT)
ZDS #718 - Batman Doom Survival
---
2021-06-02 • UberGewei • (
ZDS News
)


Nanananana.. Doomg.. *ehem* Batman!

You guessed right! This weekend it's time for Batman Doom.
The modification that should have been an official game.

Unfortunately it has always remained a Doom modification.
But that doesn't make it any less special! This product is truly a masterpiece.
The creators of the modification, are three brothers that
founded a company together and called it ACE Team.
After Batman Doom they went on to work on games like
Rock of Ages 3: Make & Break, Zeno Clash and more.
And that was to be expected after the release of Batman Doom,
the passion and the time that went into it is just crazy.
It showed that the brothers had a lot more to offer.
...
ZDS #717 - Defend Your Captain Part II
---
2021-05-28 • UberGewei • (
ZDS News
)


Hello people,
This Saturday we will continue with Defend Your Captain,
the gamemode has been approved and all your feedback has been taken into account!

Well how does it work?
Simple! One person of each team gets assigned "the Captain".
The others are assigned with the task of defending their captain.
Your captain dies? the other team scores!
A captain can tank a lot more damage than a normal defender.
So it'll take some serious effort to bring him down.

-> Forum post <-

Date: May 29th, 2021
Euro: 19:30 BST (14:30 EDT)
USA: 02:00 BST (21:00 EDT)
...
ZDS #716 - Defend Your Captain (CTF mod)
---
2021-05-21 • UberGewei • (
ZDS News
)


Hello people,
This Saturday it is time for something new!
We're gonna try out a new ACS gamemode called Defend Your Captain.

Well how does it work?
Simple! One person of each team gets assigned "the Captain".
The others are assigned with the task of defending their captain.
Your captain dies? the other team scores!
A captain can tank a lot more damage than a normal defender.
So it'll take some serious effort to bring him down.

-> Forum post <-

Date: May 22nd, 2021
Euro: 19:30 BST (14:30 EDT)
USA: 02:00 BST (21:00 EDT)
---
---