A new version of ZDaemon has been released today!
This update affects the ZDaemon Client only. The Server binaries did not change!
To customize the following two new features go to
Options -> Video Mode -> Advanced Options
!
Super-Sampled Anti-Aliasing (SSAA)
It's an image processing method that removes visual artifacts due to low resolution/color availability. Check the bottom of the pit on this image: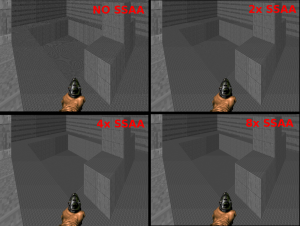 (click image for larger version)
Note that SSAA is meant to be used with low resolutions around 640x480! The visual improvement for higher resolutions is negligible and will just consume
a lot
of CPU time. 2 x SSAA will be sufficient in most cases. Higher SSAA values will again be
very heavy
on the CPU if it is not strong enough.
Widescreen support
This version introduces complete widescreen support so you can tailor your view to your preferences.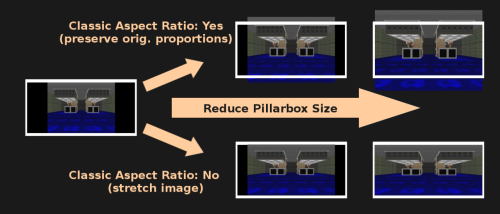 (click image for larger version)
Special care was taken to protect competitive play by never rendering more information on screen than the original doom2.exe would provide to the player!
Other improvements
The mouse code has been improved to remove undesired mouse acceleration in Windows Vista/7 and to also reduce instances of "stuck keys"! You can now safely use high mouse polling rates like 1000 Hz.


ZLauncher will now automatically look for missing wads needed to playback a zdd demo!


Demo compression has been improved further and the ZDaemon Demo Tool will auto-convert any demos saved through it!


A new Quick Chat Block feature that works similar to the Quick Voice Mute feature has been implemented!
For more details just
check the changelog
.
To get the new release just go to
'Help->Check for Updates'
in the ZLauncher or download it from
here
.