BFG Edition Update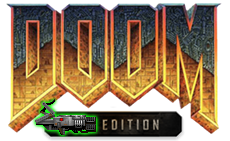 First of all, a warm welcome to all newcomers that bought the freshly released
Doom 3 BFG Edition
and found their way to ZDaemon to play some Classic Online Multiplayer Doom.
ZDaemon was updated to properly handle the
DOOM.WAD
and
DOOM2.WAD
IWAD files that are shipped with the BFG Edition!
The
Commercial WADs
section has been updated to list the new Doom II Expansion pack
No Rest for the Living
(nerve.wad) from the BFG Edition and general pointers on where to obtain the BFG Edition were added.
ZDaemon Server Wizard

A new
user friendly
and
simple
yet
powerful
tool to start a ZDaemon server has been released! You can access the ZDaemon Server Wizard from the ZDaemon Launcher when you go to
Server -> Start Server Wizard
or run it manually by double clicking the
zswizard.exe
in your ZDaemon folder.
Serverside Demo Recording Test
The brand new
Serverside Demo Recording
feature of the upcoming version is currently being tested in collaboration with the
ZDaemon Duelers League
! You can check the server recorded demos on the ZDL servers at
Dwango United #1
/
Dwango United #2
/
[XXX] Brazil
!