For ZDaemon Launcher users: If you're finding that after the release attempts to set a resolution and/or certain mode is not being retained between sessions (client restarts), this is down to an internal change that was made as a result of an internal CVAR change. The original position for the "Windowed" and "Fullscreen - Native" options was previously inverted.
If you go to Settings -> General -> Video, all you'll need to do is either set it to "Last Used" so it always obeys what was last set, or if you want to ensure it always reverts back to "Windowed", "Fullscreen - Native" or "Fullscreen - Borderless" then you'll want to select one of those options from the selection menu and then set the desired resolution.
The above will then take effect the next time the client is launched.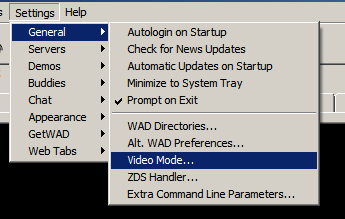 NOTE: A separate edge-case has also been identified which will be handled in a subsequent client hotfix.